With skateboarding getting its start in the 1950s, we've had two generations of influencers using their tricks and skills to develop this sport. From the humble days of being in empty swimming pools to world-class competitive environments, the amount of growth over the past four decades is due to the influences of a few pioneers.
For most people, it is skateboarding's culture that draws them to their first deck. The mentality found here is never to give up. When you put in the practice and perseverance to stand up after falling, you'll learn a skill that can help in every aspect of life.
Skateboarding wouldn't be here without the efforts of companies like Hobie and Makaha, with the latter forming the first professional skateboarding team in 1963. Since then, we've seen numerous greats step onto their boards to change the world.
Who Are the Best Skateboarders of All Time?
Although every list is subjective, the individuals chosen here are based on their skills, industry influence, and staying power.
1. Rodney Mullen
We wouldn't have modern skateboarding without Rodney Mullen. He's often called the "Godfather of Skateboarding" because he invented most of the tricks that still get performed today.
He's responsible for the heelflip, kickflip, 360 kickflip, Ollie, and much more. While growing up in the 1970s, Mullen worked on freestyle skating before it was even considered something to do. Even today, the ingenuity of the different tricks or courses he follows with his board is technically outstanding.
Mullen would win his first world-level skateboarding championship when he was 14 years old. Over the next ten years, he'd win 34 out of 35 freestyle contests, making him the most dominant force in the sport.
After dominating the freestyle circuit, Mullen transitioned to street skateboarding. He's responsible for the Casper slide, Darkslide, and primo slides in that section of the sport.
You can see Mullen in about two dozen skateboarding videos, and he's also written an autobiography that describes his journey through life.
2. Daewon Song
When you see Daewon Song's work on a skateboard, you might wonder what you're watching. He approaches the sport unconventionally, looking for new ways to add creative energy to each movement and trick.

Song incorporates some of the strangest obstacles and objects that you'd ever consider when on a skateboard.
Even with that reputation for uniqueness, Song can throw down with anyone on a ramp or bowl and come out the winner. His technical skills earn him the honor of being the 2006 Skater of the Year, and he is also the co-owner of Thank You Skateboards. 
When you look at Song's work, pay attention to how he controls the board. What he can achieve from a balance perspective while traveling at high speeds is ridiculous. You won't find a more enthusiastic ambassador for the sport today.
3. Tony Hawk
If you grew up in the 1990s and followed skateboarding at all, you knew about Tony Hawk. He was such an influential part of society for a time that he even had his own clothing line at Kohl's.
When most people started skateboarding in the 1980s and early 1990s, the activity was not widely accepted. You were often seen as being "undesirable" in society. It was even illegal to be on a skateboard in some small towns!
Tony Hawk changed that by commercializing everything he could about skateboarding. Although critics might call that selling out, it's because of his work that the industry now has global acceptance.
Who else would you expect to land a 900 at the age of 48? 
Hawk continues to play an influential role in Skateboarding with his role as the owner of Birdhouse. You can also play an updated version of the Pro Skater games under his name license on PS4, PS5, and Xbox.
4. Kris Markovitch
For many young skateboarders, the Union Wheels Right to Skate video was a life-changing experience. People saw Kris Markovich on a skateboard and wanted to make that part of their life.
Markovitch's energy is what attracts people to his work, even with his transition to becoming an artist. He makes some incredible decks, murals, and paintings with a trademark style that keeps his skateboarding work fresh and relevant.
Markovitch is also the founder of Given Skateboards, although he transitioned that company into his current artistic endeavors today. You can still find a few of his decks on eBay from that time.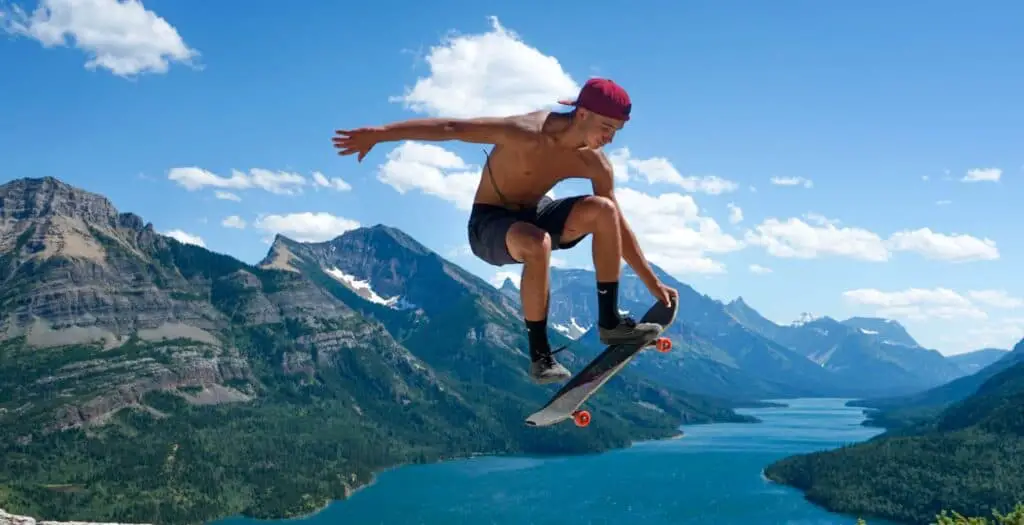 5. Rob Dyrdek
When skateboarding started becoming popular in the 1980s, it was because of the air tricks that vertical ramps offered. As people started looking to innovate their techniques in different ways, it took almost a decade for the transition to street skating to happen. 
Rob Dyrdek is the one skateboarder who transitioned the industry from playgrounds and bowls to urban environments.
Dyrdek is also responsible for the skatepark movement in the United States. Private property owners would post signs prohibiting skateboarders from using their steps and rails, which meant new public places were necessary to work on individual skills.
With the skate plazas getting installed in America and worldwide, it was suddenly possible to practice on benches, ledges, and more to provide an authentic skating experience.
It would be fair to say that Dyrdek moved street skating from an underground movement to the forefront of the skateboarding world.
6. Eric Koston
The general public got to know Eric Koston because he was featured in Skate and Tony Hawk video games. He began his skating career in 1986.
During the 1996 Summer X Games 1, Koston took first place in the park event. He's taken numerous gold medals in subsequent competitions within the series, along with other pro invitationals and pro tours.

From 2005-2007, Koston won ten consecutive gold medals in several different skateboarding disciplines.
As a pro skater, he became one of the first pro skaters to work with Nike to create a signature shoe line. Koston also stars in dozens of different videos that show off his unique skills.
Koston's influence on the skateboarding industry is that athletes in this sport can have the same sponsorship power as those who play basketball, football, and other "mainstream" activities.
7. Nyjah Huston
If you want to be the best, you must have the skills to beat the people who are ranked No. 1. When you look at the skateboarding world for competitions, no one can touch Nyjah Huston. He has won more competitive events than any other skater in history, which means his contest purse is the highest.
Although Huston was born in 1994, he has been the competition series's overall champion for five years. Today, he has numerous sponsors, including Element (his first), Social CBD, Nike SB, Mountain Dew, and Doritos.
Tony Hawk earned his millions from licensing, but Nyjah Huston makes his wealth through competition. He's the evolution of the sport today.
Huston has made appearances in video games like Proving Ground and Ride. He's also in the remake of Pro Skater 1+2 that was released in 2020.
It's not just the skateboarding world that Huston influences. He's turned some of his wealth into a charity called Let It Flow. This nonprofit organization works to provide clean and safe water to communities without access.
Huston uses the funds through Let It Flow to fix wells, build sanitation stations, and build new water access routes.
8. Mark Gonzalez
Known as "Gonz," Mark Gonzalez is a pioneer of the modern street movement in skateboarding. He entered the sport at age 13 in California, taking the next two years to develop an innovative and contemporary approach. 
His iconic 1984 Thrasher magazine cover doing the beanplant would become his trademark – even if the image is quite blurry.
In 1986, Gonzales performed a wall-to-platform Ollie at The Embarcadero. It's been called the Gonz Gap ever since, leading many skateboarders to travel to the location to duplicate the trick.
Later in that year, Gonz and Natas Kaupas became the first skateboarders to ride handrails.
Gonzalez has won numerous awards to recognize his influences on the skating world. Transworld Skateboarding selected him as the most influential skateboarder of all time in 2011, beating out Tony Hawk and Rodney Mullen. The magazine also gave him the Legend Award in 2006. 
Since retiring from competitive skateboarding, Gonzalez has become a professional artist and painter, designing sculptures for several retail locations globally.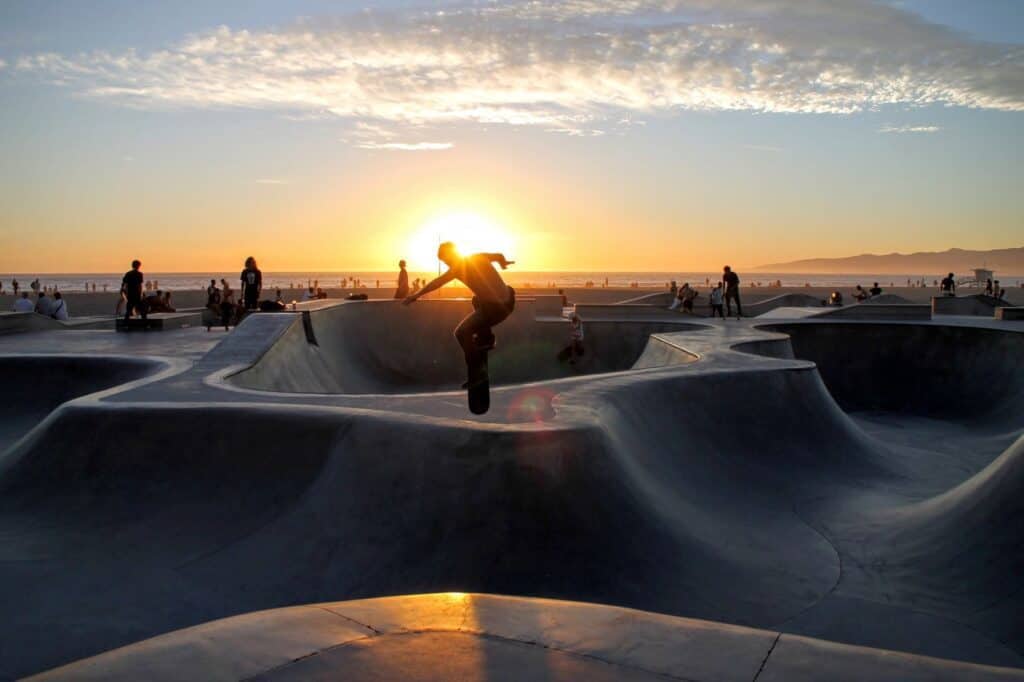 9. Jamie Thomas
When you think about Jamie Thomas's work with a skateboard, the only way to describe his approach is that of a daredevil. When you watch some of his earliest routines, the entire sequence seems chaotic and unorganized.
Thomas performs his tricks with exceptional speed. His videos, especially "Welcome to Hell," have had staying power because of the innovative approach he used in the 1990s.

Although Thomas won a handful of competitions, his influence on skateboarding came from his videos. The one trick he attempted, called "The Leap of Faith," was an ollie melon over a handrail and down an 18-foot drop. 
He might be the only skateboarder to make a name for himself for an unsuccessful trick attempt.
Thomas founded Zero Skateboards and Fallen Footwear in 1996 and 2003, respectively. Ernst and Young awarded him with a regional Entrepreneur of the Year for his work in those two companies. 
Thomas has appeared in most of the Pro Skater video games and in other Tony Hawk branded endeavors.
10. Aaron Homoki
If you try to accomplish what Aaron Homoki does on a skateboard, you're going to need knees of steel. He has a unique ability to clear gaps, withstand huge drops, and land massive tricks.

When you ask Homoki how he can accomplish these feats, he'll give you a shrug. "Not bad for a guy who can't pop an ollie very high," he'll say.
Although Homoki has medaled in the X Games, his work in videography continues to influence the skateboarding industry today. He's appeared in more than a dozen videos since 2007, with his latest offering called "A Happy Medium," which was released in 2005.
Even if you're not the biggest fan of skateboarding, you won't believe what is possible with the big air and street tricks that Homoki can pull off. Although he isn't a household name like some of the other athletes on this list, his daring nature pushes everyone to keep challenging themselves. 
You can also use Homoki as a playable character in Pro Skater 5.
11. Peggy Oki
Skateboarding has always been a male-dominated sport. It took more than a decade for women even to get noticed for their prowess on a deck, but that result was more a reflection of what society was like at the time.
In the 1950s, women were expected to come out of the workplace, support their families at home, and be there for their children. Peggy Oki changed everything for female skateboarders.
Although you might not recognize her name, Oki was the first woman to join the Z-Boys. Some people said she had to skate like a guy to get accepted, but the general consensus is that she was better in her prime than almost any other skater.
Oki got her first skateboard at age ten from her father. The Flintstone rock wheels on that deck helped her develop a gritty, raw style that made her stand out on the competitive teams.
Although she didn't stay in skateboarding for long, the impression she left on everyone opened more doors for women.
Oki would also become a pioneer in her own right, becoming an activist and advocate for environmental awareness. She started two projects: the Dolphins Ambassador Program and the Origami Whales Project.
12. Patti McGee
The 1965 issue of Life Magazine featured McGee doing a handstand on her skateboard. She was only 19 at the time, but the attention she earned from that experience helped her be the only woman featured in Skateboarder Magazine later.
McGee spent her career being a demonstration girl for Hobie. She could perform 360 tricks and virtually every other technique that was popular during her era. 
After her time at Hobie was over, she continued to work the media circuit to promote skateboarding, including an appearance on The Tonight Show. 
She would eventually become the first woman elected to the Skateboarding Hall of Fame.
It's a remarkable accomplishment for someone who initially used a homemade skateboard and was primarily self-taught.
When McGee was on the Cooley Team, she set a record in 1964 for going 47 miles per hour on her skateboard.
13. Tom Penny
When Tom Penny started skateboarding in Oxford, there weren't many people to encourage or influence him. As he describes it, there weren't any skate shops, magazines, or competitions around, so he and his friends influenced each other with their ideas.
That's why you'll see many commentators say that Penny seemed to come out of nowhere. By 1994, he had to relocate to the United States to continue his career path after representing the Deathbox Skateboards team.
Penny released several videos throughout his career, with several influential tricks and ideas coming from the mid-1990s.
Even when pro skaters would work with him, they were shocked by Penny's approach. It was as if he didn't even know that he was doing something special. For many of the filmed tricks, none of it was planned.
Penny would just try something, pull it off, and move to the next item on his itinerary. 
Even today, it would be fair to say that Penny doesn't think about his influence on skateboarding in the same way that everyone else does. The way he performs moves almost feels nonchalant, almost as if he is bored. That's how talented he is with his movements. 
Tom Penny also won the 1995 Radlands Championships, beating over 100 competitors, including Tony Hawk, Eric Koston, and Jamie Thomas. 
Who Do You Think Are the Best Skateboarders of All Time?
When people rank the best skateboarders of all time, the list is often based on each athlete's personal influences in their life.
That's why you'll see names like Tony Hawk leading the way for Millennials, while Nyjah Huston tends to be the most famous athlete for the younger generation.
If you talk to people from Generation X or the later Baby Boomers, you'll have a conversation about Rodney Mullen or Kris Markovitch.
There are no right or wrong answers here. If a skateboarder positively influenced your life, they deserve a high ranking on your personal list!
For this content, the goal was to discuss influence, skill, and staying power. Do you agree with where each skater ended up in the rankings?
If this article was helpful, sign up for our Newsletter for more great content.