Wearing a helmet is one of the best decisions you can make when setting out for a cruise on your longboard. Because of the high speeds and quick reaction times needed to avoid danger, longboarding poses more risk of head injury than traditional skateboarding. 
While helmets are quite common, if not required, in the professional ranks, many beginning longboarders still feel helmets are "uncool." Finding the right helmet style can drastically change this perspective and motivate young riders to take the proper safety precautions when hitting the streets. 
Before making your final decision on what helmet best suits you, be sure to check the sizing guide to ensure a snug and safe fit. Choosing the wrong size for your head can quickly defeat the purpose of wearing a helmet and even pose even more risk for injury. 
We compiled a list of the 7 best longboarding helmets for beginners based on safety standards, style, technology, and price point.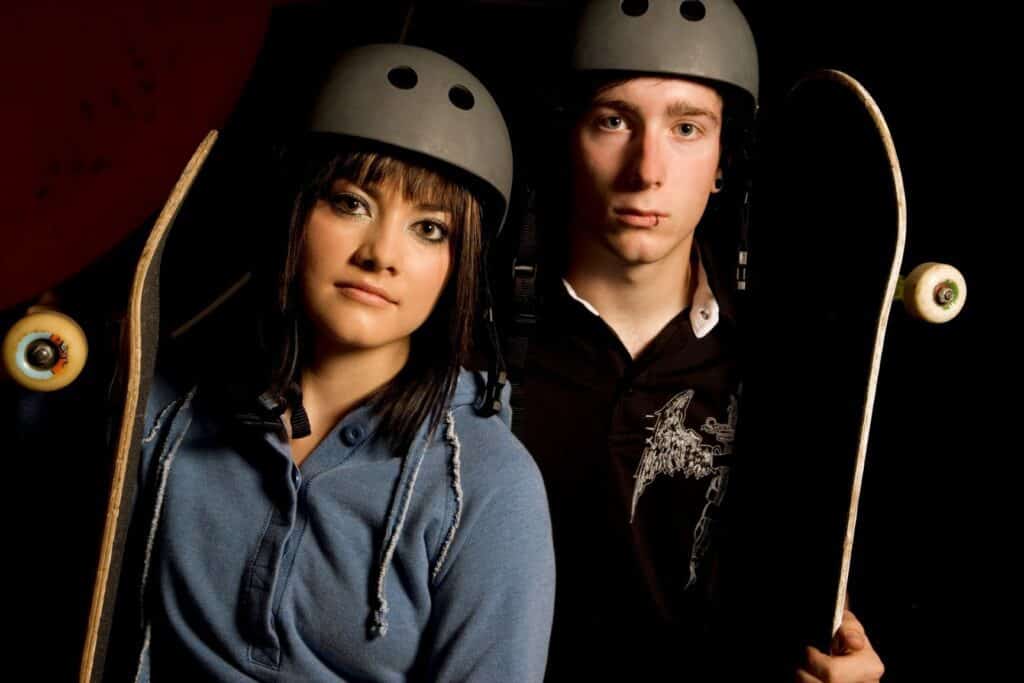 A well-known brand within the skateboarding and longboarding community, Triple 8 is dedicated to making affordable protective gear. Many novice longboarders choose Triple 8 for their first helmet with good reason. Triple 8's MIPS technology protects users from angled impacts along with direct impacts for a broader range of protection. 
The Sweatsaver helmet features moisture-wicking fabric that dries quickly and naturally to reduce odor buildup. Replacement Sweatsaver liners are available to keep this helmet looking and feeling new for a lifetime of use. This helmet has been tested to meet U.S CPSC & ASTM F-1492 safety standards.
Pros:
Replaceable Sweatsaver liner
Many color & size option 
High impact-absorbing EPS Foam 
Meets U.S CPSC & ASTM F-1492 safety standards
Cons:
Sizing may be small 
It has not been tested to meet CPSC, ANSI, or CE safety standards 
It does not offer full-face protection 
Pro-tec took the original half-shell helmet designed and added its own touches for improved comfort and safety. Vents along the entire construction keep your head cooler while reducing the amount of sweat build-up from within. 
EPS foam combined with a durable ABS polymer shell ensures maximum protection when slamming. Compression-molded liner pads add to the overall comfort of this helmet during long training sessions. The simplicity and versatility of this helmet make it a favorite among extreme athletes of all ages. 
Pros:
EPS Foam & ABS polymer shell
Cooling vents throughout
CPSC 1203/ASTM 1492/ CE EN 1078 Certified
Cons:
Hard foam lining
No sweat saver liner
Reviews report sizing may not be suitable for larger riders. 
This stylish helmet adds a little flair and character to your skating ensemble with an integrated visor for protection against the sun. Crafted from an EPS foam liner and ABS polymer shell, this helmet is built to last while retaining a low-profile. 
The Crank Fit dial ensures the perfect fit and can easily be tightened or loosened while on your head. Gaining certifications for skateboarding, biking, and snow sports makes this one of the most versatile helmets on the market. Two replaceable liners come with the Watts helmet for both warm and cold weather use. 
Pros:
Adjustable fit – Crank Fit dial
Integrated Sun visor
Multi-sport certified 
ABS Shell & EPS Foam Liner
Cons:
Minimal air vents
Sizing problems 
The visor could impede visibility 
This may not be a beginner helmet, but when you want maximum protection for bombing hills at top speed, the Downhill Racer Full Face Helmet from Triple 8 may be the perfect choice for you! Designed after helmets worn by motorcycle enthusiasts, the shatter-resistant visor can be flipped up for better visibility or airflow. 
The EPS foam liner is topped off with soft velvet for maximum comfort and protection. The foam-lined chin strap is naturally moisture-wicking to prevent odor build-up. Extra padding is included with the Downhill Racer to ensure the perfect fit for boarders of all ages. Above all else, this helmet meets the U.S. CPSC Safety Standards for bicycles and ASTM F-1492 safety standards for skateboarding. 
Pros:
Shatter-resistant flip-up visor
Velvet lined EPS foam inside
Fiberglass shell 
Maximum protection for head & neck areas
Cons: 
Fog build-up possible 
It can become hot in warmer weather
High price point, not ideal for shoppers on a budget 
This next-level helmet packs a ton of innovative features into a small package while remaining stylish. Giro is well known within the speed sports world for its attention to detail regarding helmet protection testing and streamlined product lines. The Bexley features Giro's Multi-Directional Impact Protection System, or MIPS for short, to provide optimal protection from slams taken at any angle. 
The integrated tinted eye shield is retractable to open up a wider range of view or left in place to keep the sun out of your eyes. A built-in rear light is perfect for a sunset cruise while allowing you to be extremely visible to traffic. Four large vents keep air flowing through the helmet, proving especially useful for summer rides. 
Pros:
Multi-Directional Impact Protection System (MIPS)
Roc Loc City Air System
Adjustable air vents 
Integrated rear light
Retractable eye shield 
Cons:
Limited color options
High end
Overall large construction
When saving space is the name of the game, the Foldable Helmet from FEND is sure to catch your eye! Able to reduce its' size by 50% makes for easy storage in a backpack or handbag for easy on-the-go access. Although a fairly new company, FEND has already won multiple awards for their thoughtful designs while meeting US CPSC and European EN1078 safety standards for longboarders. 
A durable ABS shell combined with the high impact absorbing EPS core, this foldable helmet remains lightweight yet extremely successful in protecting your noggin! The integrated dial fit system makes it quick and easy to adjust this helmet's fit to conform to all head sizes. 
Pros: 
Foldable – 50% of the full size 
Lightweight
Integrated dial fit system
Easily fit in a backpack or handbag 
Cons:
Tons of technology, which doesn't come cheap! 
Only rates for speeds up to 20 MPH 
Sizing may be different from typical helmet or hat sizes. 
When reaching top speeds on your longboard, having full face protection is always a good move. The Switchblade MIPS Helmet from Giro features an easy-to-remove chin bar for easy storage but should always be kept on when riding! Much like other Giro helmets, the Switchblade features their Multi-Directional Impact Protection System. 
An integrated sun visor protects your eyes from glare while protruding far enough to keep your face away from the road or sidewalk when taking a spill. The Roc Loc Air DH Fit keeps air flowing between your head and helmet to reduce sweat build-up, letting you train longer without having to take breaks in between runs. A bumper around the adjustable dial ensures it will not become loose if knocked against a backpack or neck brace. 
Pros:
Removable chin bar
Ventilated design 
Fun color options
Multi-Directional Impact Protection System (MIPS)
Cons:
It does not fully protect the face or eye areas
Chin bar is known to break before the helmet
It can become hot to wear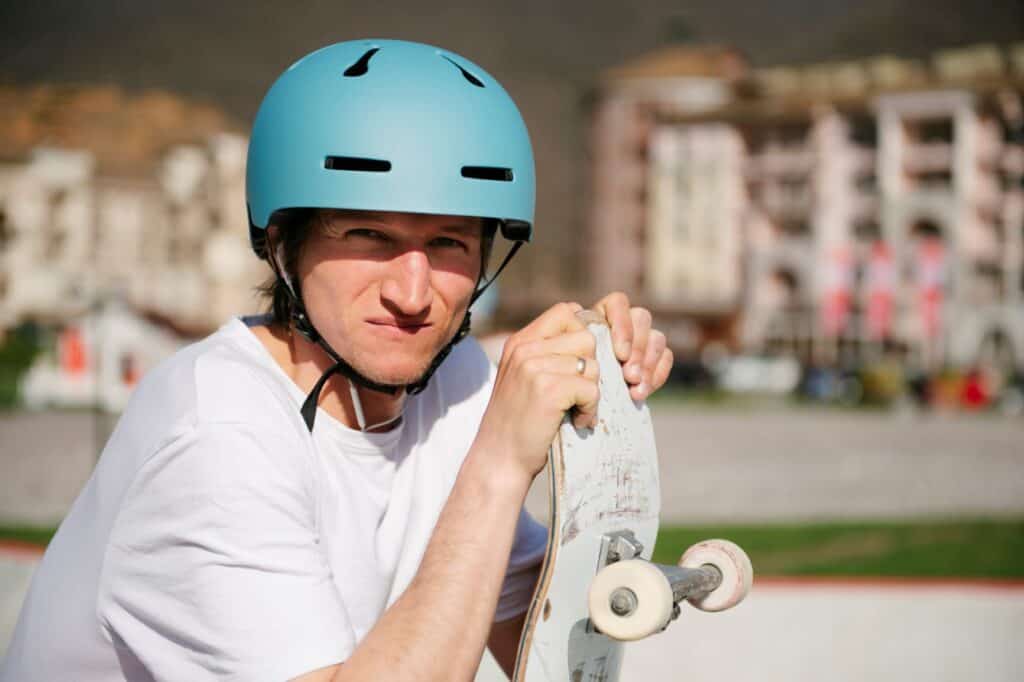 Conclusion
No matter what your perception is on whether or not it's "cool" to wear a helmet, we can all agree that avoiding a brain injury is more important!
Nowadays, helmets are available in a massive array of styles and colors to provide all wheeled-sports-enthusiasts with a stylish and fun option when it comes to protective equipment. 
While you can't put a price on safety, and many of these helmets fall into the "high end" category, the perfect helmet for your budget and lifestyle is out there! Having the right helmet for longboarding can significantly lengthen your time of being able to enjoy the sport.
Young or old, it's never too late to start wearing a helmet. 
Many companies realize that helmets are a touchy subject between those that wear them and those that do not. Having a stylish helmet you genuinely enjoy wearing will motivate you to bring it with you to every session and, in turn, can encourage others to start wearing one.
If the question ever arises, "should I wear my helmet today?" the answer should always be a roaring "YES!". 
Thousands of athletes succumb to brain and neck injuries every year. We can only assume having proper protective equipment can help lower those numbers. So get your friends together, pick out your helmets (maybe some fun matching colors), and get back on the streets confident you have all the materials to have a safe and enjoyable experience.
If this article was helpful, sign up for our Newsletter for more great content.