Having a good set of wheels on your skateboard can make a huge difference in how pleasurable your experience is. Cracks in the sidewalk and occasional pebbles in the street can drastically slow you down, sometimes even catapulting you into the pavement! Being prepared with the right setup can save you the headache, energy, and skin on your elbows. 
In this article, we will cover our list of the top 9 best skateboarding wheels for cruising and tricks, along with the pros and cons of each one. 
Spitfire is well known in the skateboarding world for producing high-quality wheels perfect for street skating and carving bowls at the local skatepark. The Formula-Four Conical wheels are crafted from 99 Duro polyurethane for optimal strength with less chance of developing a flat spot from powerslides. 
With Spitfire's impressive pro team lineup, you can support your favorite skaters by purchasing their wheel model. Click the link above for available size and color options. 
Pros:
Conical shape helps lock in grinds
Long-lasting graphic 
99D polyurethane prevents flat spots 
Made in the USA
Cons:
Price range varies 
Made for tricks, not cruising
When a smooth ride is what you're after, the Chrome Clouds wheels from Ricta are sure to suffice. Ricta makes an extensive range of styles, colors, and density options to account for all skateboarding styles. 
The Chrome Clouds are a favorite among filmers and skaters who just like to go for a smooth cruise down to the store. Combining a soft wheel with a hard core, these wheels are some of the most versatile skateboarding wheels on the market today. Available in multiple colorways, sizes, and densities, Ricta makes the perfect wheel for any occasion. 
Pros:
Many size & color options
Perfect for cruising 
Can handle rough terrain 
Smooth ride
Cons:
Slower speeds
Tons of grip, not best for park skating 
Bearings can get stuck in the metal core
OJ Wheels made a large range of wheel styles and shaped to match any needs. The Super Juice wheels are explicitly made for cruising down rough terrain with maximum speed and control. 
Super grippy and long-lasting, these wheels are the perfect addition to any longboard or cruiser setup. Smaller wheels are available for trick skaters who prefer a cushioned landing. 
Pros:
Super grippy
Fast speeds
Easily roll over cracks and debris
Cons:
Not ideal for tricks
Heavy
Opportunity for wheel bite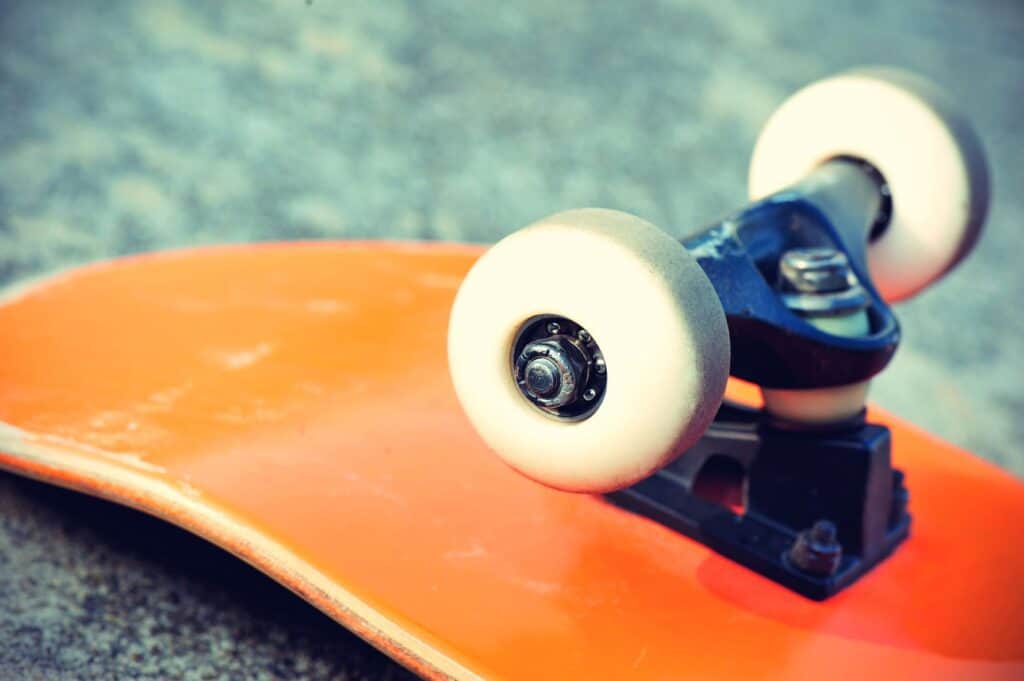 Since the start of Bones in 1977, they have been a staple in the skateboarding community. They are known for their high-quality bearings and wheels for a good reason. The Rough Rider wheels from Bones feature their innovative All-Terrain Formula (ATF), making them the perfect middle ground between skateboarding and longboarding wheels. 
This specially designed formula ensures a smooth ride wherever you are headed, despite road conditions. 
Pros:
Extremely smooth ride
Support your favorite skaters
All-Terrain Formula (ATF)
Cons:
Aimed towards cruising the streets, not skateparks
Require high trucks 
Only available in green 
Pig Wheels have earned their place in skateboarding history from their attention to detail for the every-day skater. Pig Wheels has a cult following of professional and casual skaters alike who appreciate well-made, long-lasting skateboard wheels. 
Available in an extensive range of color and wheel styles, Pig Wheels is almost guaranteed to have the perfect set of wheels for you. Specially designed for tricks and park skating with maximum grip and flat spot resistant
Pros:
Flat spot resistant 
Many colors & styles
Economical 
Cons:
Designed for skatepark skating
Not ideal for cruising 
Simple design & technology 
It's almost impossible to make a list of the best longboarding wheels for cruising without mentioning Kryptonics. The wheels' clear construction makes it very easy to see wear and tear or cracks in the wheels from excessive use. They ride super smooth with the perfect amount of grip and bounce whether you are just going for a light cruise or jumping off curbs. 
Kryptonics also makes wheels specifically designed for skateboarding, making them a more well-rounded company giving all borders a chance to try out these fantastic wheels
Pros:
Clear Formula
Smooth ride
Tons of different styles & colors
Long-lasting 
Cons:
Chunky design
A lot of grip, not intended for tricks
Bounce
Designed with cruiser, longboard, and electric skateboard riders in mind, the Caguama wheels from Orangtang are the perfect combination of style and quality. These wheels have the option of coming fitted with preinstalled Jehu V2 bearings ensuring these wheels are street-ready right out of the box. 
Constructed using their unique "Happy Thane Formula," these 85mm wheels are built for speed and comfort. The exposed skeletonized core reduces excess weight while still maintaining maximum durability and protection from sand or other debris. 
Pros:
Cons:
Heavy-weight wheels
High price point
Requires high trucks for wheel clearance 
When affordability is on the mind, FREEDARE is the perfect place to look. The skateboarding-minded team over at FREEDARE built a simple wheel package giving the rider everything they need to put these wheels right on their trucks and start cruising. 
Coming with a tool, bearings, and bearings spacers, you don't have to fuss over getting all the right materials from different companies beforehand. The size and diameter of these wheels make them the perfect addition to any penny board or cruiser. High-quality polyurethane ensures a smooth, quick ride to your destination
Pros:
Bearings, spacers, and tool included
High-strength polyurethane 
Built for speed and comfort
Compatible with penny boards
Affordable
Cons:
Soft wheels, not designed for trick skating
Only a few colors available
Only 45mm wide
Designed specifically for longboards and electric skateboards, Meepo has earned its keep in the skateboarding world. Constructed with their patented cold infusion technology, these off-set wheels are built for high speeds and longevity. 
Offered in two different sizes, these wheels make the perfect addition to any cruiser board. One major downside to purchasing these wheels is that they only sell them in packs of 2, so be mindful of that when purchasing! Meepo only sells these wheels in packs of 2, intended for the front wheelset. 
Pros:
Multiple size options
Long-lasting formula 
Cold infusion technology 
Cons:
Sold in sets of 2
Off-set wheels, designed for electric skateboards primarily 
Only one color option
Not budget-friendly 
Conclusion
We hope this list of the top 9 best skateboarding wheels for cruising & tricks helps you make an informed purchase when looking for new skate gear. Whether you want to work on locking in back smith grinds or try to set a new personal record bombing that big hill in your neighborhood, there is sure to be a perfect set of wheels for you! 
Wheels come in many different shapes, sizes, and densities, so be sure to do your research on what works best for your skating style to be completely comfortable with your new ride.
If this article was helpful, sign up for our Newsletter for more great content.