If you want to learn how to skateboard, one of today's best investments is a longboard. Although you won't get to know the technical tricks or get vertical ramp work with this product, you will get to know how to balance on a deck faster.
The best budget longboard for skateboarding might have different shapes and sizes, but they all have one common feature: reliability.
How to Choose the Best Longboard for Me
When you start shopping for the best longboard, you'll have a few crucial features to review as you look at each deck. 
If you take the time to review each of the following features, you'll find the best budget longboard to meet your needs without breaking your budget.
Deck Size:
When you have a longboard with a bigger deck, you'll have more stability when learning how to ride it. You might also look for a longer wheelbase to extend this feature even more. This board can handle faster speeds, but it comes at the expense of a larger turning radius for curves and bends.
Deck Height:
This feature represents how high the longboard sits above the ground. When this measurement is greater, it's more challenging to push the board or stop it when you need braking power. A lower deck (called a "dropped deck") is easier to control, but it can also grind more readily when turning. 
Mount Type:
A common mount for longboards is called a drop-through. This design has the wheels mounted through the deck so that your board is lower to the ground. If you have a top-mount model, the wheels get affixed to the deck from underneath the board, causing it to sit up a little higher for more response and better leverage.
Deck Flex: 
If you want a longboard that delivers pumping or carving action, you'll want one made from bamboo or fewer maple plies. You won't get as much speed because of the extra control. Board manufacturers can use a cambered or rocker profile to impact this motion, so you'll want to consider the curvature you prefer when shopping for the best product.
Kicks and Concaves:
Some longboards come with "foot pockets" that make it easier to stay on the deck or create momentum. These design features are useful for freeriding and carving, but you'll sacrifice some speed to get that movement. You'll want a kicktail if you do any street cruising, while downhill rides benefit from a nose pocket that keeps you stable.
Truck Style:
The traditional trucks for longboards are useful for downhill rides, a few freestyle moves, and general commuting. You can opt for RKP (reverse kingpin) trucks if you want better turning. The latter option sits higher up on the deck, allowing for more force generation when leaning from side to side.
Bushings:If your longboard has soft bushings, you'll have an easier time carving or pumping your longboard. When you want to do tricks or have a high-speed commute, a harder bushing works better to maintain your suspension. Riders who are on the heavier side should consider avoiding the softer design.
Wheel Diameter:
When you have bigger wheels on your longboard, you'll have more speed. This advantage comes with the disadvantage of needing more clearance between the street or sidewalk and your deck. It helps to look at the bearings incorporated into this feature to ensure your pushing can maintain the most momentum possible with each effort. 
How to Choose the Correct Board Size
When you shop for the best budget longboard, it is essential to select the right board size for your needs.
If your deck is too small, it won't give you the stability you want for some riding situations. When you choose one that is too big, you won't have as much movement flexibility to enjoy.
Here are the three elements you'll want to consider when searching for the right board size for your new longboard.
If you commute to school or work along an open road, sidewalk, or bike path, you should choose a model with the largest wheelbase possible for stability. It should be at least ten inches wide and forty inches long.
When you must navigate busy city streets, populated neighborhoods, or multiple obstacles, you'll want to cut your board length by about 15% to have more control over each curve.
If you prefer to use your investment to learn freestyling moves and tricks, you'll want a longboard that's about 30-33 inches long and under ten inches wide to get the results you want. 
As you shop for the correct board size for your needs, it is crucial to remember the board's flex rating. If your deck has too much movement, you'll experience less stability at the higher speeds you can achieve.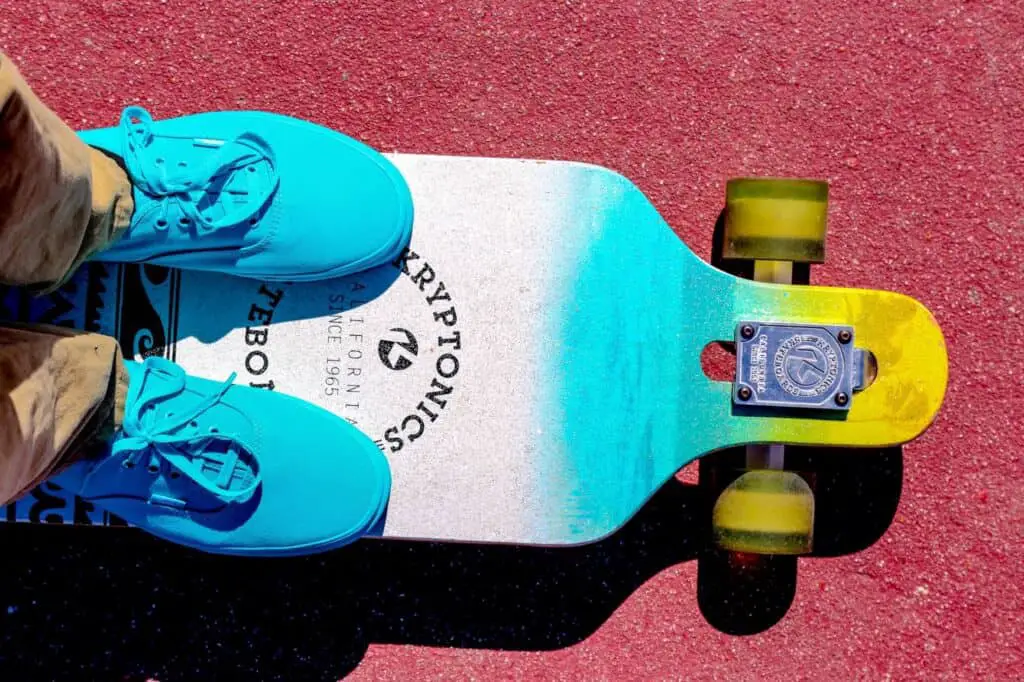 How to Choose the Right Wheels for Your Longboard
When you start shopping for the best budget longboard, you should go into the experience expecting to replace your wheels right away.
Almost every budget longboard comes with 78A wheels. Although this softer material does well for commuting because you get more support over rough roads, you'll lose some of the maneuverability that some riders need.
You could use 78A wheels on a bike path, sidewalk, or open stretch of road. If you must navigate a busy urban environment, you'd want something harder than 70A instead. 
The wheel size is another feature to consider when looking at today's best longboards. When you have added width in this area, you'll get faster movement.
Anyone with an open-road commute should use 75mm wheels at a minimum to get enough speed. You'll also need to verify that the deck has enough clearance so that you don't get a rub that could cause them to lock. That's a fast way to break an ankle!
If you need a city cruiser longboard, smaller wheels are a better solution. You'll want something in the 60mm to 65mm range, with the final size determined by your truck angle and height. 
When you need to travel long distances with your longboard, something above 80mm will be helpful. You might consider upgrading to ceramic bearings for additional support. 
Best Budget Longboards to Buy Today
If you're ready to ride a longboard or need a replacement, these options provide an excellent user experience while charging a fair price.
1. Magneto 44-Inch Kicktail Cruiser
If you've never tried longboarding before, the Magneto 44-inch Kicktail Cruiser delivers an impressive result. It comes in three different board styles, features a hard maple deck with bamboo, and is suitable for all ages. Each one comes with the brand's logo laser-etched into the materials so that you don't need to worry about stickers falling off.
| Advantages of the Magneto Kicktail Cruiser | Disadvantages of the Magneto Kicktail Cruiser |
| --- | --- |
| The deck comes with a maple core and bamboo veneer to give you a sturdy riding experience. | Braking on this longboard can scratch off the veneer rather quickly, reducing the aesthetic appeal of your investment. |
| You'll receive Paris-style trucks with the board, using a seven-inch hanger and a kingpin angle for better movement. | It is meant to be a starter board, so you won't achieve top speeds or advanced freestyling tricks.  |
| It uses 78A urethane of softer, translucent wheels that deliver an above-average cruising speed.  | The lack of flexibility in the board makes it more appropriate for smooth surfaces only. |
This longboard arrives fully assembled. Once you get it out of its packaging, you can take it on a ride. It feels substantial and bulky at first, but the overall feeling is still positive.
You'll find the Magneto 44-inch Kicktail Cruiser is manageable, affordable, and a lot of fun to ride. 
2. Quest Skateboards California Spirit
When you choose the Quest Skateboards California Spirit longboard, you're getting a design that features open wheels to eliminate biting action at top speeds. This feature ensures you receive an optimal right at whatever pace you prefer. It's made from 7-ply maple hardwood to ensure you can have fun, even in the coldest climates.
| Advantages of the Quest Skateboards California Spirit | Disadvantages of the Quest Skateboards California Spirit |
| --- | --- |
| You receive precision bearings that deliver the right amount of support when you need it the most. | The maximum weight tolerance for this longboard is 280 pounds, so it isn't ideal for some riders. |
| The aluminum trucks keep the weight down on this longboard while providing strength for a stable ride. | If you want to do cruising with this product, you might need to replace the bearings.  |
| It uses a 7-inch truck for added stability. | The wheels on this product are meant for paved or rough surfaces, making it hard to do sliding techniques.  |
| The deck shape helps riders find their center of balance naturally, making it suitable for most beginners.  | |
When you get this longboard, we highly recommend a complete bearing inspection if you plan to do high-speed cruising. The primary complaint about this design is that this part wears out prematurely. 
You'll find that most of your investment goes into the deck materials and shape. If you don't mind upgrading the bearings, trucks, and wheels over the next year, you'll find this budget longboard is an excellent deal.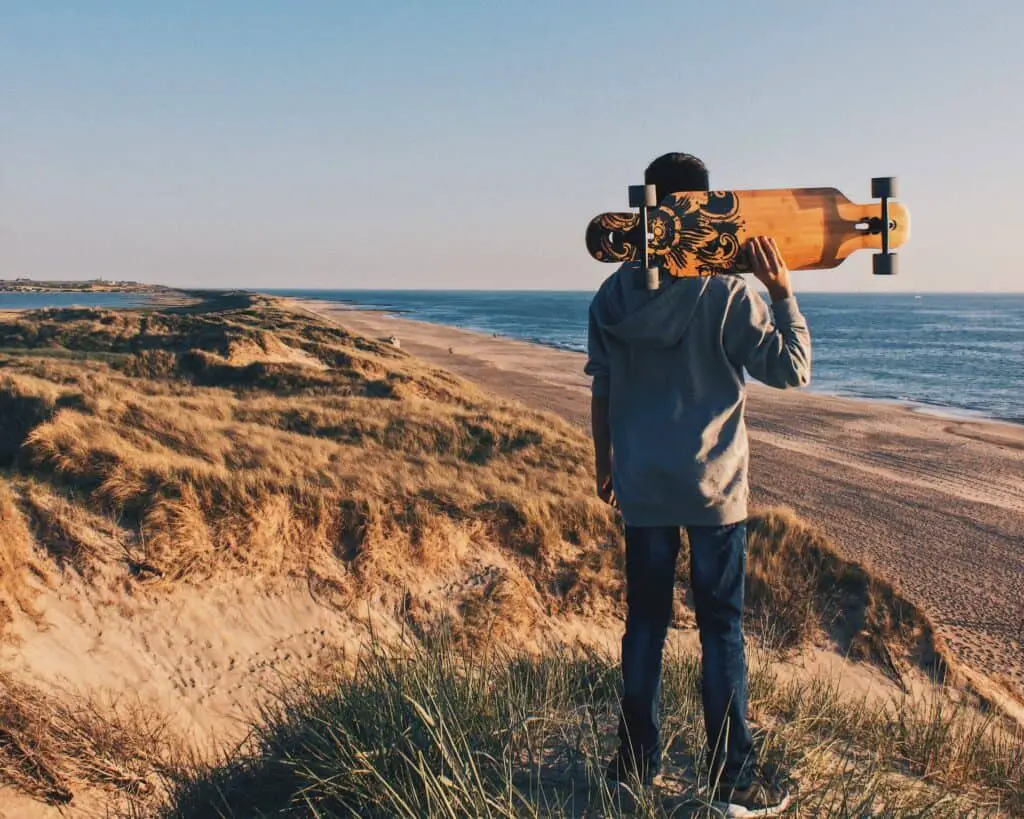 3. Hana Longboards
If you choose a longboard from the Hana collection, you can select a twin, pintail, cruiser, or short pintail design for your ride. Each model is approximately 36 inches long, delivering the classic shape and ride you'd expect from a high-quality product. After you step on it for the first time, you won't believe that you purchased one of the best budget longboards because it'll feel like you should have paid more.
| Advantages of the Hana Longboard Collection | Disadvantages of the Hana Longboard Collection |
| --- | --- |
| Each longboard from the Hana collection comes with an eight-layer laminate that features a maple core and bamboo veneer. | The manufacturer includes two extra holes for the trucks in case you want to replace the stock ones. That means you need to clean that area out if you don't use the feature. |
| It uses top-mounted Paris-style trucks to enjoy a larger user platform. | There is only one color available to select when shopping with the Hana collection. |
| Some decks use a W-shaped concave to ensure your foot placement remains accurate, making it suitable for beginners. | If you want a drop-through design, you'll need to select the Cruiser or the Twin design.  |
| If you choose the pintail version, the shorter deck and lower weight are perfect for younger riders.  | You might need to replace the hardware within the first year. |
When you want to carve some pavement, the longboards found in the Hana collection deliver an excellent result. You'll want to pay attention to the board's flexibility because it does bounce you more than some other models.
It can also sag some if you approach the upper end of its weight tolerance. When you treat this product right, you'll find that it is a reliable addition to your commuting needs. 
4. Fish Skateboards Artisan Longboard
If you select the Fish Skateboards Artisan Longboard to get outside on four wheels, you can choose from four unique desk designs to express your personality. It is a 44-inch model that delivers the right amount of weight, while the ABEC-9 bearings hit the right speed levels you need for a long commute.
| Advantages of the Fish Skateboards Artisan Longboard | Disadvantages of the Fish Skateboards Artisan Longboard |
| --- | --- |
| You receive an all-in-one tool with your purchase to make whatever adjustments are needed for a comfortable ride. | The manufacturer uses a heat transfer graphic on the bamboo outer layer, which means it can wear off with repetitive use. |
| The weight tolerance rating for the product is 330 pounds, making it one of the industry's sturdiest. | You'll get 9.5 inches at the widest point of the fishtail design, but the nose and tail are noticeably skinnier.  |
| The extra heft from the board's construction makes it easier to control your speed for long-distance commutes.  | The brand on the upper deck reduces the traction you receive when using the longboard.  |
| It delivers a smooth ride with enough stability to make it well-suited for beginners.  | |
Although this longboard doesn't stand up to tricks well, you won't have a problem riding this product to any destination. As long as you don't try to ride it through slush or snow, you'll have a positive experience.
It does have 82A soft wheels, so it may not be suitable for all riders. It doesn't take long to switch things up to something different if needed.
5. White Wave Bamboo Longboard
At 38 inches long, you'll have enough space to manage a downhill ride without feeling uncomfortable with the White Wave Bamboo Longboard. It uses Canadian maple and bamboo layers to create a substantial deck that dips a little lower than the wheelbase. 
Although it looks plain from a distance, you'll find that the clear grip tape gives you a sturdy user experience.
| Advantages of the White Wave Bamboo Longboard | Disadvantages of the White Wave Bamboo Longboard |
| --- | --- |
| The longboard uses ABEC-9 Hellion 2 bearings to give you speed and maneuverability when navigating a downhill section. | Although the longboard measures 38 inches, you don't have room above the front or back wheels. |
| Built-in spacers for the bearings reduce the risk of wheel locking.  | The wheels work well for long-distance rides, but you might want to get something harder for other needs. |
| You have the option to change the drop-through design to a top-mount if you prefer that riding style.  | Deck surface scratches can sometimes impact how well this model rides.  |
| The trucks are a little stiff, but they wear in nicely as you continue riding the board. | |
Before you take this longboard out for a ride, you'll want to verify the tightness of your hardware. As with most products like this, temperature and pressure changes from the shipping process can cause expansion and contraction.
If you're looking for the best budget board to use as a beginner, this model delivers impressive results!
6. Sanview Bamboo Short Longboard
When you select the Sanview Bamboo Short Longboard, you'll find that the 34-inch-long deck is shorter than some skateboards. It also maximizes the space you can use when trying to land tricks. This model is the right compromise for someone who wants cruising support without abandoning the public skate park entirely.
| Advantages of the Sanview Bamboo Short Longboard | Disadvantages of the Sanview Bamboo Short Longboard |
| --- | --- |
| The 7-ply design of this skateboard provides it with a stable and smooth ride in various conditions. | The polyurethane wheels don't provide the softest user experience on long-distance rides. |
| Its size and shape make it suitable for children who want to experiment with longboards. | With the lightweight nature of the longboard, heavier riders can feel hard-pressed at times to stay on the deck.  |
| The weight is only 6.6 pounds, allowing riders to perform some tricks with this model.  | The materials scuff easily when using the board, but it doesn't impact the integrity of the product. |
| It uses ABEC-9 bearings to ensure you receive the right combination of speed and control.  | You'll discover the manufacturer uses Torx bolts, which means your tools might need an upgrade. |
You'll discover several fun graphics available with the Sanview line, allowing for a fun ride that displays your personality. Although it isn't as comfortable as more extended designs for commuting, it's still a comfortable ride for most. The turning capabilities are about equal to that of a standard skateboard.
Although this brand doesn't have the same name recognition as others, you'll find that it can deliver an impressive result that will make your bank account happy. 
7. Santa Cruz Freeride Longboard
When you select the Santa Cruz Freeride Longboard, you're getting a fantastic commuting board that delivers one of the best rides in the industry today. At 40 inches long and ten inches wide, the stable deck provides the speed and control you want. It handles rough surfaces, smooth trails, and whatever hills you need to navigate.
| Advantages of the Santa Cruz Freeride Longboard | Disadvantages of the Santa Cruz Freeride Longboard |
| --- | --- |
| The 8-ply deck design delivers a reliable performance that works well for all users. | The grip tape on this longboard can have some durability issues, especially if your shoe soles have non-slip features.  |
| It has enough weight to keep you stable without disrupting the speeds you want to achieve when commuting. | You'll need to upgrade the bearings if you plan to ride the longboard daily. |
| The deck graphics are stunning. You'll find people engaging in conversation to ask where you picked up your longboard.  | It has weak points by each set of trucks that require you to stay in the middle of the board to get the best riding experience. |
| You'll receive consistent movement and speed during your ride. | You cannot perform tricks on this board. |
Although several complaints have been filed about this board's durability, most accidents occur when riders attempt to do tricks, have an impact incident, or place their weight on the deck in spots where supports are lacking. If you take care of this longboard, it will take care of you!
It's one of the most stable designs available today. You'll reach cruising speeds quickly, have superior balance, and enjoy the freedom to explore
Want to learn more about freeriding? Read "What Is Freeride Longboarding?"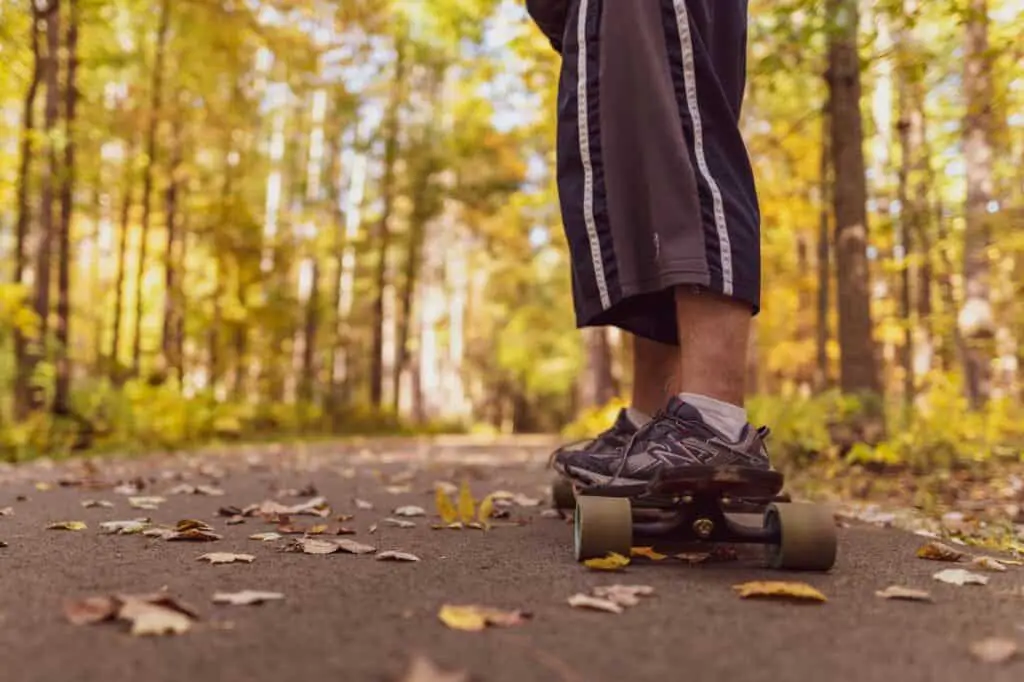 Longboards vs. Skateboards: Which Is Better?
Although some people use the terms interchangeably, longboards, and skateboards are different products. 
Both products have their roots in the surfing community. In the 1950s, surfers wanted something that could keep them active when the waves weren't rolling to the shore correctly. By adding wheels to a smaller, similarly shaped board, they could roam city streets while waiting for the ocean.
That approach to skateboarding persisted for about 40 years. In the 1990s, people realized that long-distance cruising could be improved by extending the board's length and width. By tweaking the design to accommodate a lower center of gravity, it became easier to reach higher speeds.
That brought about the birth of the modern longboard.
Skateboard vs. Longboard Differences
When you compare skateboards to the best budget-friendly longboards available today, you'll see lots of similarities. You'll want to look at the differences to determine which design works best for your specific needs.
Size and Shape. A longboard has a flatter nose and tail than a skateboard. That makes it easier to cruise long distances at the expense of performing tricks. You can "dance" when riding one, but it isn't the product to do some work on the vertical ramp. Some of the most prominent models are 59 inches long, whereas the biggest skateboards are about 36 inches. 
Deck Flexibility. Most skateboards have some flexibility built into the deck to give you a cushion when lifting off or landing a trick. It's what makes it easier to nail a jump. With longboards, the extra length and width tend to create a stiffer product. You'll still have some flex with it, but it tends to be from side-to-side instead of through the middle.
Wheels and Trucks. Longboards typically have broader and softer wheels than skateboards. You'll also find the trucks are more flexible and more expansive. These design differences let you grind rails with a skateboard and have a smoother ride while on the longboard.
Balance. Longboards are a lot easier to learn how to ride because they naturally force you into a position of body balance. If you start with a skateboard, it can take longer to find your footing. If you want to try ramp tricks or clear huge gaps, it's worthwhile to gain confidence in this area on the longer deck before transitioning to a shorter one.
Speed. Although longboards and skateboards can go fast, the more extended deck with added weight and stability hits the top speed. It's the perfect option for bombing hills, riding to school, or having an affordable way to get around town. 
If you want to enjoy time at a local skate park, a skateboard is the best choice. When you want to race, cruise, or commute, a longboard is the better option.
Debating between a longboard, skateboard, or penny board? Read "Longboard Vs. Skateboard Vs. Penny Board."
How to Find the Best Budget Longboard for Me
When you're ready to learn how to ride, the best budget longboard is a fantastic investment to consider. If you select one of the products from this guide, you'll have a comfortable, stable ride that accomplishes all of your goals.
The final choice depends on several factors, including your weight, commuting distance, and riding style. Some people might have fewer selections than others, but everyone can have a fantastic time on their new board!
You'll find that a longboard is a reasonable investment in yourself. If you're ready to explore the world on four wheels, this option is for you.